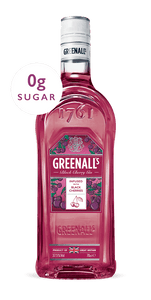 Our Original London Dry Gin recipe has been infused with natural black cherries to create a fruity, sweet gin that has a luscious and indulgent sweetness.
Unlike many other flavoured gins, Greenall's Black Cherry Gin contains 0g sugar and no sweeteners. It is made with 100% natural ingredients. Real fruit, real flavour.
For a refreshing drink, simply enjoy Greenall's Black Cherry Gin with Mediterranean tonic along with cherries and lemon for garnish.